What can I drink on keto besides water? If you love coffee (like most people do), you might wonder if it's allowed on a very low-carb diet. After all, coffee is a great energizer and can be used to help with weight loss. 
This article answers the question, "Is coffee keto-friendly?" 
We'll look into its nutrition facts, common ingredients that increase the number of carbs in coffee, its health benefits, and how to make coffee keto-friendly. 
Is Coffee Keto?
One cup or 8 fl oz of plain brewed coffee has 0g carbs, 0.1g fat, 0.3g protein, and 2.4 calories, which makes it a keto-friendly beverage. [1] Brewed coffee also provides potassium, calcium, and magnesium in small amounts. 
Since coffee is completely carb-free, it fits perfectly into your keto diet and pairs well with eggs, cheese, berries, dark chocolate, and keto-friendly desserts. 
Unless you're sensitive to caffeine, you can safely drink 4-5 cups per day (with a maximum intake of 400g of caffeine for women). [2]
However, keep in mind that whatever you add to your coffee can increase its number of carbs, which can mean the difference between maintaining or falling out of ketosis. Things that can quickly raise carbs in coffee include brown sugar, honey, low-fat milk, and flavoring syrups. Be sure to avoid these ingredients at coffee shops or better yet, brew your own coffee at home. 
If you don't enjoy plain brewed coffee, you can use a natural sweetener like stevia or monk fruit that won't raise your coffee's carb count or affect your blood sugar. (Later in this article, we'll show you three keto-friendly ways to enjoy coffee using different add-ins!) 
The Benefits of Coffee on Keto
As one of the best keto-friendly energy drinks out there, plain black coffee is helpful for: 
3 Ways to Enjoy Keto-Friendly Coffee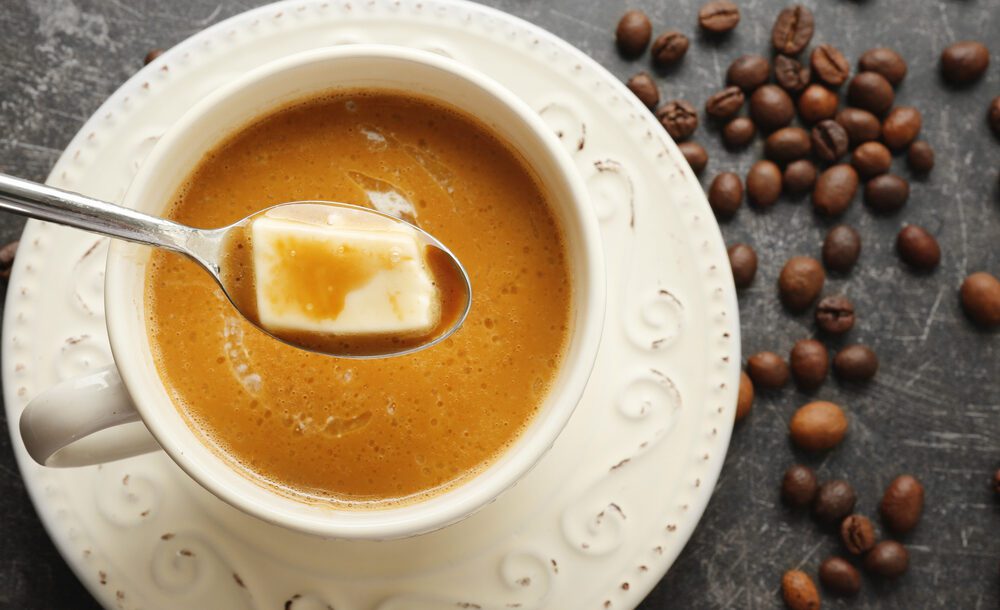 What can I put in my coffee for keto? Thankfully, there are plenty of low-carb and high-fat ingredients that will make your coffee taste better or healther. Try these ideas: 
Coffee with heavy whipping cream and ground cinnamon.

Try this dessert-like combo by mixing 1 teaspoon of ground cinnamon (which has only 2g carbs) into black coffee and adding unsweetened whipped cream on top. 
Including Coffee in Your Keto Diet
All things considered, coffee is a keto-friendly drink that can help you with weight management, physical performance, increasing ketone levels, and enhancing an intermittent fast—on top of making you feel more alert. 
Coffee can only kick you out of ketosis when you use conventional sweeteners (like brown sugar, honey, syrups, and sweetened creamers) and milk (usually low-fat varieties). 
As an alternative, go for keto-friendly natural sweeteners and one serving of butter, collagen powder, or whipping cream for deliciousness if you're bored of plain coffee.
References
Nutritionix. (n.d.). Retrieved August 1, 2022, from https://www.nutritionix.com/food/brewed-coffee 
9 reasons why (the right amount of) coffee is good for you. Johns Hopkins Medicine. (2021, October 28). Retrieved August 1, 2022, from https://www.hopkinsmedicine.org/health/wellness-and-prevention/9-reasons-why-the-right-amount-of-coffee-is-good-for-you 
Mirmiran, P., Carlström, M., Bahadoran, Z., & Azizi, F. (2018). Long-term effects of coffee and caffeine intake on the risk of pre-diabetes and type 2 diabetes: Findings from a population with low coffee consumption. Nutrition, metabolism, and cardiovascular diseases : NMCD, 28(12), 1261–1266. https://doi.org/10.1016/j.numecd.2018.09.001
McLellan, T. M., Caldwell, J. A., & Lieberman, H. R. (2016). A review of caffeine's effects on cognitive, physical and occupational performance. Neuroscience & Biobehavioral Reviews, 71, 294–312. https://doi.org/10.1016/j.neubiorev.2016.09.001 
Smirmaul, B. P., de Moraes, A. C., Angius, L., & Marcora, S. M. (2017). Effects of caffeine on neuromuscular fatigue and performance during high-intensity cycling exercise in moderate hypoxia. European journal of applied physiology, 117(1), 27–38. https://doi.org/10.1007/s00421-016-3496-6
Vandenberghe, C., St-Pierre, V., Courchesne-Loyer, A., Hennebelle, M., Castellano, C. A., & Cunnane, S. C. (2017). Caffeine intake increases plasma ketones: an acute metabolic study in humans. Canadian journal of physiology and pharmacology, 95(4), 455–458. https://doi.org/10.1139/cjpp-2016-0338
The post Is Coffee Keto? Facts, Benefits, and Tips appeared first on Ketogenic.com.
This content was originally published here.